Our OCEMS System & EMF System – The ultimate solution for effluent monitoring. With our state-of-the-art technology, you can easily and accurately monitor your effluent in real-time. Our system includes an OCEMS System for continuous effluent monitoring and an Electromagnetic flowmeter (EMF) for precise flow measurement. This ensures that you stay compliant with industry regulations and reduce your environmental impact. Plus, our system is user-friendly and cost-effective, making it the perfect choice for any business.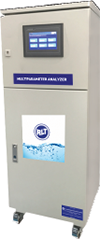 Online Continuous Effluent Monitoring System(OCEMS)
COD/BOD&TSS SENSOR
Type – Multi – Parameter Analyser

Principle – UV-spectroscopy measurement (180 nm to 780 nm Dual Beam entire spectrum)

Range – 0 -500ppm-COD,)0-500ppm- BOD & TSS-1000ppm

Overall accuracy – (+/-)2 ppm

Max Process temperature – 60°C

Calibration data – Inbuilt calibration & application data storage in Transmitter

Cleaning – Auto Cleaning
Real-time water quality measurement

All water quality sensors are digital sensors with an RS485 Modbus interface.

The Digital intelligent sensors can be arbitrarily combined, plug and play, and the controller can be recognized automatically.

Touch screen display, easy to operate & interface.

Data logger function, all measured data will be recorded.

Multi-parameters water quality Analyzer is equipped with a USB interface; users can download report in excel format.

Upto 6 parameters can be measured.
Electromagnetic Flow Meter(EMF)
Application: Waste water/water, chemical, food & pharma etc..

Conductivity >5ps

Line size: DN10-DN3000.

Velocity:0.01m/s to 1Om/s.

Accuracy:z0.S% or :t0.2'X.

Op Press: 40bar, opt temp:60 •C /135•C/150•C

Output & Communication: 4-20mA, pulse/HART/RS485/GPRS/GSM

Housing: Flow tube is completely welded.

Protection: TP65/67/68.

Power supply :265 VAC/500 VAC/24 VDC / Battery

Calibration – NABL / Approved laboratories by weighs & Measures